It's no secret that online giant Amazon is gradually monopolising the realm of ecommerce. But now that founder Jeff Bezos has stepped down from his role as CEO, what does the future look like for the marketplace?
Keep reading for our verdict, plus four other key Amazon platform updates from February 2021.
1. Bye Bye Bezos
After 26 years at the top, earlier this month Jeff Bezos announced that he will soon be stepping down as the CEO of Amazon. The news broke via Amazon's 2020 earnings report, which detailed the online giant's record-breaking fourth quarter. For the first time, the company broke the $100 billion quarter sales barrier, delivering a whopping $125.56 billion in revenue during Q4.
Now the richest person in the world, Bezos has transformed the platform from a humble online bookstore to the world's largest online retailer. Alas, he isn't ready to throw in the towel just yet. While Bezos is keen to have more free time, he has no plans to leave the daily management of Amazon.
Instead, the reshuffle will see Jeff take on the role of Executive Chair of the Board of Directors. He will be superseded as CEO in Q3 by Andy Jassy, who has been working with Bezos for over two decades.
"As Exec Chair I will stay engaged in important Amazon initiatives but also have the time and energy I need to focus on the Day 1 Fund, the Bezos Earth Fund, Blue Origin, The Washington Post, and my other passions. I've never had more energy, and this isn't about retiring."Jeff Bezos – aboutamazon.com
2. New Ad Placement for Sponsored Brand Videos
Back in September 2020, Amazon expanded its creative offering by rolling out Sponsored Brand Videos (SBVs) to most European marketplaces. The feature allows for fully customised, six to 45-second videos that showcase your products and link directly to the corresponding product detail page.
Until recently, as keyword-targeted campaigns, SBVs appeared exclusively on Amazon search engine results pages. However, this seems to have been expanded. SBVs now also appear at the bottom of product detail pages.
What does this mean for your Amazon Advertising strategy?
SBVs will become a lot more visible. As well as inline in SERPs, your branded videos can now appear at the bottom of your AND your competitor's product pages. The potential to expand your market share and unlock new audiences is tremendous, especially considering that 64% of consumers go on to make a purchase after watching a branded video (Tubular Insights). Put simply, if you don't make use of this powerful ad placement, your competitors will.
3. Expanding Sponsored Ads into Brazil
In last month's update, we spoke about the introduction of Sponsored Ads and Brand Stores in the Netherlands. This month, as Amazon continues its global expansion, we're moving to the home of the Amazonian rainforest… Brazil!
Sponsored Product ads, Sponsored Brand ads, and Brand Stores are now available on amazon.com.br. The Brazilian subsidiary of amazon.com initially launched over 8 years ago in December 2012 and attracts around 55 million monthly visitors.
The launch couldn't have come at a better time after Reuters reported that Brazilian ecommerce grew by 56.8% in the first 5 months of 2020 due to the impact of the COVID-19 pandemic.
4. Suggested Headlines for Sponsored Brands
If copywriting is not your forte don't worry, Amazon has got your back. From now on, when you create a Sponsored Brand product collection campaign, Amazon will automatically provide up to three headline suggestions. These headlines are based on the group of products you've chosen to promote, plus the order of your selection.
So far, this feature only seems to be available for kitchen, cooking, and dining related products. However, we can expect this to roll out to other categories over the coming weeks.
Adding automation makes the process of creating SB campaigns much quicker and easier to scale, so it's a big thumbs up from us!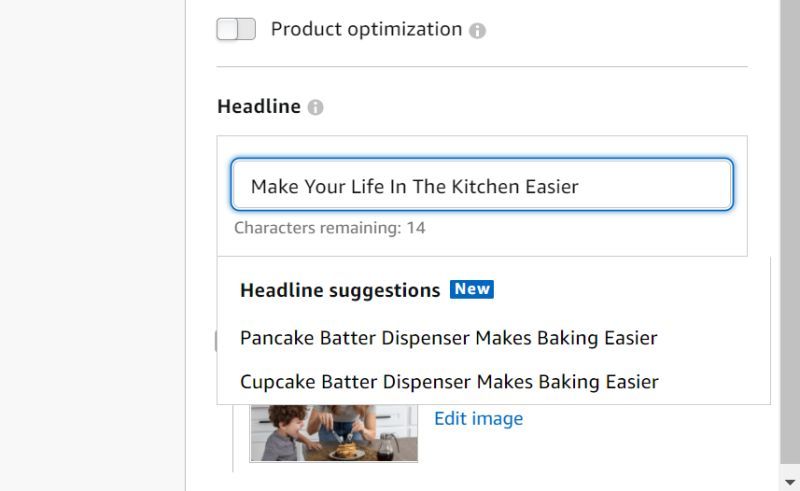 5. Updated Requirements for Sponsored Brand Logos
Sticking with the theme of Sponsored Brands, from the 31st of March 2021, new SB campaigns will require the use of a 'true brand logo'. Under this requirement, all logos must accurately reflect the brand or product that you are promoting.
In other words, if you're currently using product, lifestyle, or custom images in your SB campaigns, it's time to rethink your strategy.
Amazon's intention is to create a better shopping experience. In their research, they found that shoppers engage 20% more on desktop and 13% more on mobile with ad campaigns that contain a true brand logo. You can read more about this here.
The requirement will also help to standardise Amazon's ad policy. Right now, some advertisers are using this lack of clarity as a loophole by including fake brand logos in their SB campaigns.

Ready to take your Amazon marketing strategy to the next level? Drop us a message or call us on 0161 762 4920 find out more.