It may only be January, but when you're the world's largest online retailer the grind never truly stops. From the expansion of Amazon Ads into the Netherlands to the introduction of new reporting options, the Amazon platform has already been through a plethora of changes this month.
In the words of BoJo, let's stay ahead of the curve this year. Keep reading to discover the five most salient Amazon updates from January 2021.
1 – Expanding Advertising into the Netherlands
Back in March 2020, amazon.nl was officially launched in the Netherlands. It's estimated that up until this point, Dutch shoppers were already spending in excess of €230 million per annum on the marketplaces' German counterpart, amazon.de.
A mere 10 months later, it comes as no surprise that Amazon has set out to expand its European monopoly once again. This time, with the introduction of Sponsored Ads and Brand Stores in the Netherlands. This launch will make it much easier for sellers to directly reach Dutch customers and expand their businesses in the Netherlands.
2 – Sponsored Display Reports
Fellow Amazon advertisers, rejoice! We finally have Sponsored Display reports.
The widespread introduction of Sponsored Display ads was, undoubtedly, one of the most exciting Amazon developments of 2020. However, they seemingly forgot about one crucial element… reporting!
Sponsored Display data is arbitrarily excluded from Amazon bulkfiles, which makes it both difficult and laborious to conduct deep account audits. Although this situation is yet to be rectified, the introduction of simplified Sponsored Display reports helps to soften the blow. So far, the available list of Sponsored Display reports includes Campaign, Targeting, and Advertised Product.
3 – New Sponsored Product Search Term Impression Rank Reports
Elsewhere in the realm of reporting, it looks like Amazon is set to add 'Search Term Impression Rank' reports to the Ads console. This update was first spotted by a German seller, though we expect it to advance to other European marketplaces over the coming weeks.
The report contains two valuable metrics: Impression Share and Impression Rank. As the name suggests, Impression Share lays out, for each search term, your share of all possible ad impressions on a specific day.
For example, if your search term "coffee" has an Impression Share of 70% on the 1st of January, it means that you won 70% of all Sponsored Product impressions for this search term on this day. The remaining 30% of impressions were lost to your competitors.
Meanwhile, the Impression Rank metric details this same information as a grade i.e. first, second or third. If you are number one here, you are the seller with the most impressions for a search term on a given day. Conversely, if you are ranked third it means that two other sellers received more Sponsored Product impressions for the search term on that day.
This information is crucial to understanding how much traffic is being lost to your competitors. If you are not consistently ranking first for your branded search terms, alarm bells should be ringing!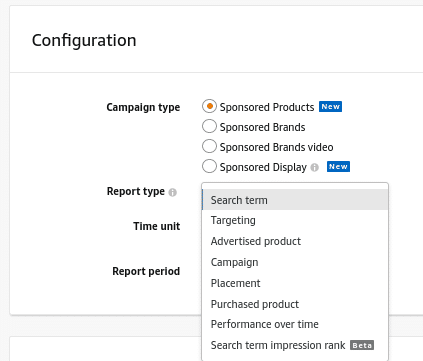 #4 – A New Location for Sponsored Brand Store Spotlight Ads
Store Spotlight ads are a relatively new addition to Amazon's Sponsored Brand repertoire. They allow advertisers to feature Store pages in their ad creative, which in turn helps shoppers to discover the different product categories that are available.
You can showcase up to three Store pages in your Store Spotlight campaigns, instead of the classic three key products that constitute a standard Sponsored Brand campaign. This is a great option for sellers who have a vast catalogue of products and a carefully built Store.
To advance this even further, you can now also configure Store Spotlight campaigns to be displayed at the bottom part of search results pages. This is a good way to get your brand seen without having to massively inflate your bids for Top of Search placements.

#5 – Getting Tough on Invoice Defect Rates
Business shoppers constitute a large and growing percentage of Amazon's customer base. For sellers, however, they bring with them an additional requirement to provide tax and VAT invoices.
In a bid to cater to this customer segments specific accounting needs, Amazon introduced the Invoice Defect Rate to sellers back in July 2020. Since then, they've urged sellers to maintain a Defect Rate less than 5%, though this doesn't explicitly impact account health.
Nevertheless, from the 5th of April 2021, this threshold will become mandatory. Sellers who repeatedly fail to provide invoices, or continually provide inadequate invoices, risk having their Amazon accounts suspended or permanently deactivated.
Fluid & Amazon
Unsure about how to make the most of these Amazon updates? Get in touch via our contact us page to learn more about how our Amazon Advertising team can grow your business on this world-famous marketplace.