"Over 81% of UK consumers surveyed admit to purchasing a product after seeing it on social media.''*
With many behavioural statistics accentuating how much consumer buying habits have changed drastically over the last few years, and with an expected 2.7 billion monthly active users on social media in 2020, it's undeniable that ingraining social media in ecommerce growth strategies is a powerful tool for marketers.
So with that, we've decided to round up some of the best ways we've found you can leverage social media content in growing your ecommerce brands today. Let's go!
Instagram Shopping
This is a set of features across Instagram that allows users to shop your photos and videos no matter where they are in the app. As you can imagine, this makes it easier for ecommerce brands to create seamless buying experiences online for their customers.
So How Does it Work?
Instagram Shopping places shoppable tags on your images. Your customer can then access pricing and product details directly within their Instagram feed and through the Shop button on your business profile. From Instagram, customers can also go directly to your online store to purchase your products.
From the moment of discovery to making a purchase, every part of the mobile shopping experience should feel seamless. Instagram makes it easy for online shoppers to fall in love with your products and quickly make them their own.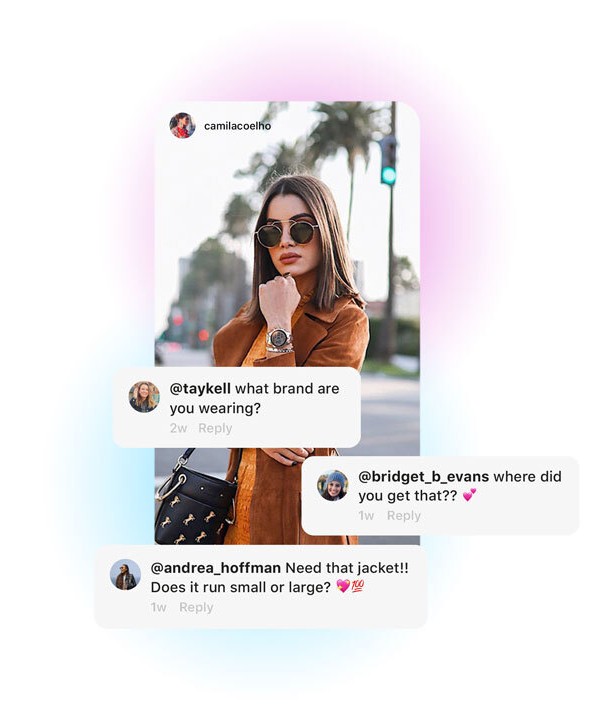 User Generated Content
User-generated content (UGC) is any type of content created by the followers, product users or consumers of a brand in order to express their opinions and feelings. So if you're stuck wondering how to create content that appeals perfectly to your target audience, there's no better place to turn to than your own customers.
Used wisely, user-content is a powerful tool for ecommerce because it uses your own customers' content to drive sales and build brand credibility. It works because each of us instinctively trusts the recommendations of those closest to us or those we choose to follow on social platforms. And so, with UGC quickly becoming the most authentic and vital way to market your brand, here are a few ways to encourage more of this online:
Sharing is Caring: UGC Re-Posting
Creating a bespoke hashtag for your UGC
Interact with your customers frequently
Kick start your UGC campaigns with micro-influencers (more on this later)
Embed your hashtag feed on your website
TikTok
Wait! Before you scroll right past this section, I think it's important to recognise that TikTok is one of the fastest growing social platforms today. Additionally, Tiktok has also made its first major move into social ecommerce after signing a deal with Shopify to allow brands to sell directly through the app.
Here are a few ideas to integrate TikTok into your content strategy:
Hashtag challenges
In-feed advertising
Brand takeovers
Branded effects
Connect with Micro-influencers
Influencer marketing is a big hit right now. It's a result of the social media revolution that gave people the option to turn themselves into a brand. The best part? You don't have to pay millions to Beyonce or the Kardashians to get your brand exposed. You can create great exposure with micro-influencers.
A micro-influencer could be a popular blogger, vlogger, or a social media authority who caters to a specific niche or segment. Since they do not have a huge following (10k-100k), they enjoy a high engagement rate, which can generate a significant ROI for your brand.
If you are an ecommerce company looking to drive traffic to your site and increase your social media exposure, we have a few winning influencer-marketing tips for you.
Scroll through your existing following to see if you have any existing micro-influencers already using your products and reach out to them for a collaboration
Create micro-influencer (virtual) meets and events to create even more buzz around your brand
Utilise influencer tools like BuzzSumo, NinjaOutreach etc to discover influencers in your industry
Be open to experiment with competitions and giveaways.
These are a few social media marketing strategies that, if utilised correctly, can certainly make your customer's buying journey smoother and quicker. An effective social media marketing strategy will help you to attract your target audience, engage online users and drive your brand's awareness.
Want to know how our paid social media marketing experts can help you generate a sophisticated strategy that delivers exceptional results? Get in touch today by using our contact form here.
*Source: https://marketinggazette.co.uk/2019/02/22/future-commerce-social-media/