The health and wellness industry is booming and with an estimated worth of $4.2 trillion, and a market that's grown by 12.8% in the last two years, there's no sign of growth slowing down any time soon. In this guest blog from LoyaltyLion, we explore the best in the business.
With hundreds of new health and wellness apps, products and services launching on an almost daily basis, promoting everything from crystals and herbal teas to make-up and yoga equipment, it's becoming harder and harder for brands to attract and retain loyal customers. 
Retaining customers should be a number one priority for beauty and cosmetics ecommerce brands. On average, 53% of your revenue comes from the top 20% of your most valuable customers, so it's clear that harnessing the interest and loyalty of these shoppers will positively impact your revenue. 
Creating relationships with customers beyond what they purchase is crucial to turning existing customers into advocates on your behalf, and the most effective way to do that is to create a sense of community. Show them that you care about them on a personal level by adding them to a special tier of your loyalty program, gifting them exclusive experiences or rewarding them every time they refer friends to your site. Not only will this start to build trust and a sense of community, but you'll benefit from both new customers discovering you, and your devoted customers seeing their loyalty rewarded. 
Let's take a look at some of the brands who are doing this really well.
Vitabiotics
A pioneer in nutritional health, Vitabiotics offers a range of vitamins and food supplements focused across a number of health categories. Their holistic loyalty program incorporates a range of strategies that put loyalty at the heart of the customer journey. 
To increase customer acquisition, Vitabiotics have implemented a one-click referral model that sits prominently on their loyalty page. Customers can simply click a single button to generate a unique Vitabiotics referral URL, which they can use to send invites to friends or family members.
Loyal customers can have up to double the lifetime value of existing customers. That's why it's important to turn existing customers – who might just be passing through – into loyal customers who are incentivised to repeatedly purchase from you. Vitabiotics encourages existing customers to sign up to their loyalty program through pop-ups across the website that highlight their loyalty program and the 15% discount they'll receive if they sign up. This keeps the company's loyalty program at the forefront of customers' minds as they move around the site and makes sure they're fully aware of the immediate benefits they'll receive once they join.
Vitabiotics also regularly remind customers of the points value that certain products hold, so that customers can see what they're losing out on if they choose not to sign up. They  further incentivise purchases by highlighting how close a customer is to earning their next reward when they add that product to their cart. If the customer is nearing a rewards or tier threshold, Vitabotics recommends related items to encourage the customer to increase their order value in order to hit the next target and gain a reward. 
While it's important to prompt customers to join your loyalty program via multiple touch points across your website, it's important not to overlook the checkout experience. Checkout is one the most important parts of the customers' journey and anything that's complicated or confusing to a customer can result in an abandoned cart. Vitabiotics use a check-out slider that allows customers to easily select how many points they want to use and redeem, directly in the cart interface.
Finally, Vitabiotics send out regular loyalty emails to highlight VIP perks such as double reward events. These keep customers engaged and feeling special, reminding them why they joined the loyalty program in the first place and giving them renewed impetus to actively participate with it.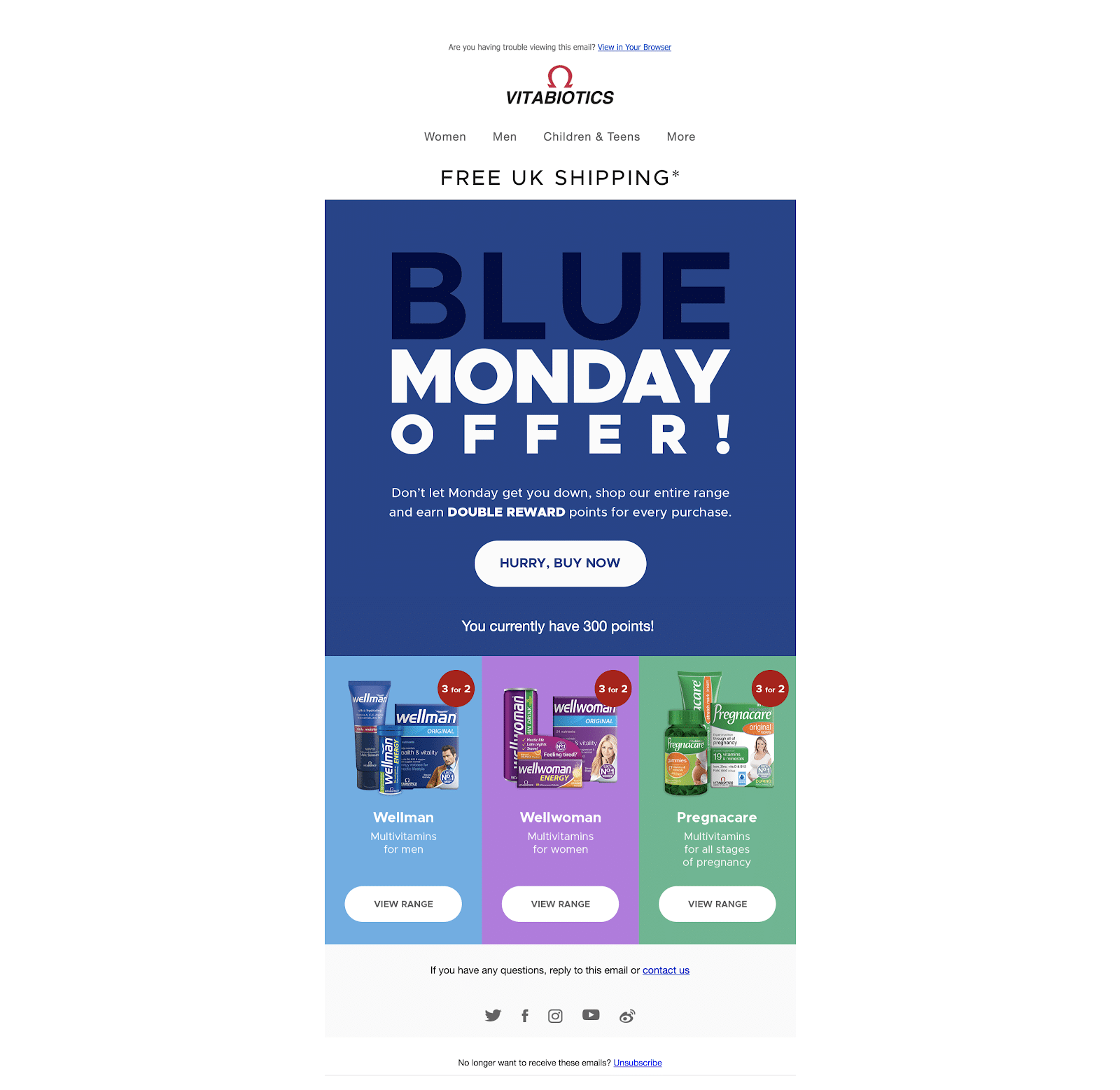 Your Super
In a world that's increasingly time-poor, convenient subscription services are in incredibly high demand, with the subscription box market set to be worth £1 billion by 2022. Recent research has found that more than 50% of businesses surveyed see subscriptions as a major focus in the future, with 58.6% saying they intend to invest in new or existing subscription services over the next 12 months. 
Subscription services give businesses more control and allow greater revenue predictability, based on regular and repeated purchases. Typically, subscribed customers have a higher customer lifetime value compared to non-subscribers. These models offer the opportunity to tie customers into a long-term relationship that will yield more customer insights and give businesses a chance to service customer needs long-term, establishing greater trust. 
Plant protein mix brand Your Super have successfully leveraged the subscription model to increase loyalty, through a paid-for subscriber tier within their loyalty program. With this model, they have increased member spend by 38% and added 21,000 new loyalty program members. 
Their unique subscriber tier is called "Your Super Member". It allows subscribers to unlock a 20% discount on every purchase and claim subscription rewards that can be used across multiple orders.
Your Super uses a simple and user-friendly customer portal that enables customers to claim and apply subscription discounts on the same page. Members can see their subscriptions, points, rewards, next order and voucher code on a single page, which allows customers to increase their average order value by purchasing new products without going through the checkout process again.
By giving subscribers a number of reasons to remain loyal, Your Super has increased its subscribers by 60% and has seen a 79% increase in repeat purchases being made by these customers.
Pacifica Beauty
Vegan and cruelty-free beauty brand Pacifica have put their core values and beliefs at the heart of their loyalty program. With 62% of consumers stating that their loyalty is motivated by the knowledge that rewards they redeem have a positive social impact on the causes they care about, it is key to communicate your brand values upfront to attract more members to your loyalty program. 
To demonstrate that responsible plastic use is their priority, Pacifica Beauty has visibly incorporated a recycling program into the customer experience. Customers can now send their used bottles back to Pacifica Beauty for them to be reused and given new life. To encourage customers to follow through with this, they include a prepaid shipping label and award customers 100 loyalty points each time they do this.
Customers want their money to go towards supporting something they believe in. In fact, 71% of 16-24-year-olds say that they feel strongly or very strongly about corporate social responsibility and 89% of shoppers would switch to a brand that is associated with a good cause, given similar quality and price. For that reason, it's important to communicate your values and make clear what you're doing to take positive steps in that field. 
Pacifica Beauty do this well, publicly sharing their core beliefs through emails to customers, outlining their principles around animal cruelty, their aspirations to reduce plastic waste and detailing exactly what steps they've been taking to make a positive contribution to the environment.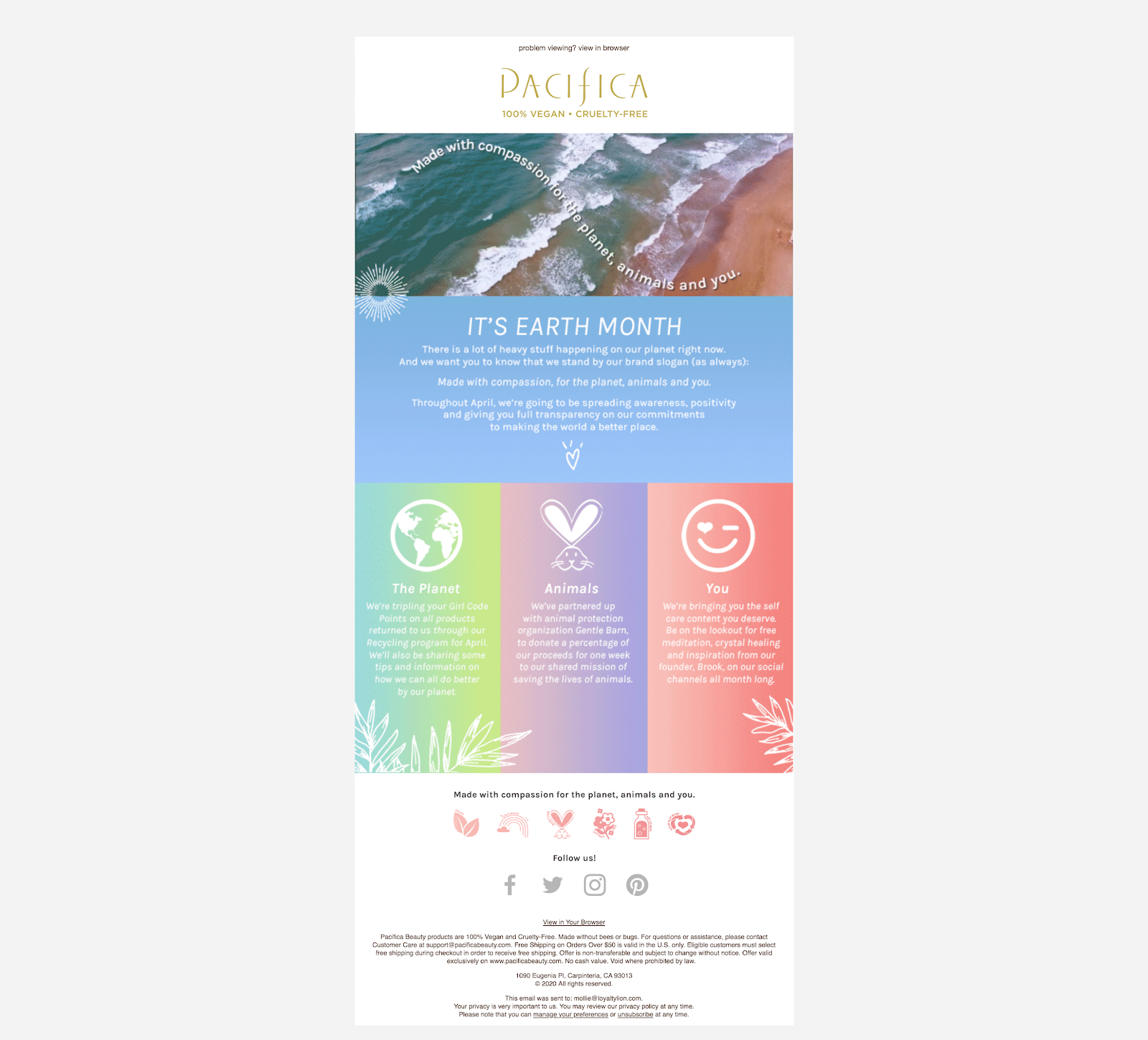 Further, Pacifica Beauty's loyalty page is incredibly easy-to-use and engaging. Their program, "Girl Code Points" blends seamlessly with the rest of their site. Using the same icons, fonts and colour schemes, they make sure their loyalty program is a key proponent of their store and an integral part of the customer experience. 
Pacifica's loyalty program is prominently advertised across the customers' entire online journey. When a shopper hovers over the cart icon, they can see their potential point balance for the items contained in their cart. When they click to view their cart in full, they are shown the total points value of their order alongside how many points they would still need to redeem before they can claim a free gift. This way, customers are incentivised to increase their basket size – with their research showing that their loyalty program members spend up to 22% more with them than non-members. 
Mirenesse
Beauty brand Mirenesse make their most-valued customers feel special by giving them early access to sales and products before anyone else. They also offer double point events for their loyalty members.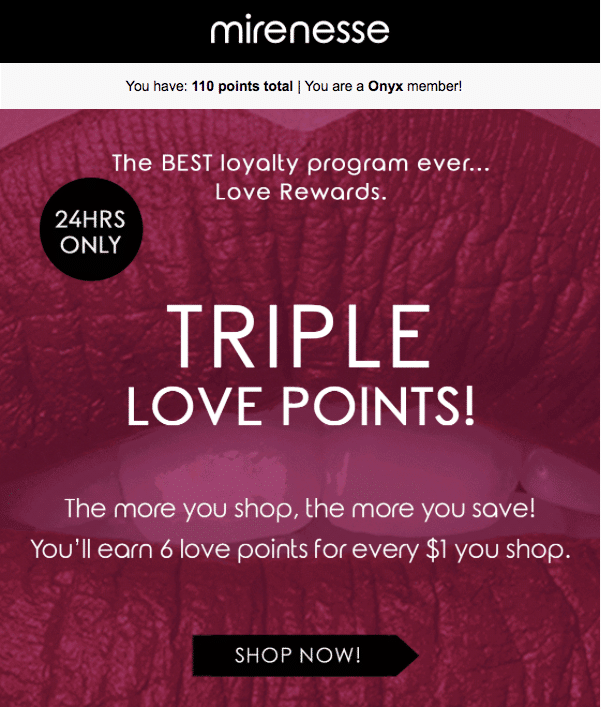 To create even more exclusivity, they have a paid member tier, known as the "Gold" tier, for their most loyal customers.
In exchange for a $10 monthly membership, members of this VIP tier get a number of additional perks. These include receiving two points for every dollar spent, exclusive access to secret sales, a tester panel where they can register to trial new products, as well as the "Gold treatment" – which gives them the ability to jump the queue.
These premier benefits encourage customers to engage more by letting them become part of an exclusive club. Through this, Mirenesse has secured a collection of loyal customers who are totally committed to long-term spending cycles with the brand. This approach has proved itself – in just three months, Mirenesse has seen over $500,000 worth of purchases made through their loyalty program.
Their redeeming members have a three times higher lifetime value and, because of this VIP treatment, more existing customers are referring their friends. It's crucial to keep those friends and family members coming through the digital doors, as referred customers are four times more likely to buy when they have discovered a brand through someone they trust.
In Summary…
The health and wellness industry is huge and still growing fast. However, competition is fierce with new products and services being launched all the time. Because of this, its businesses must harness the power of loyalty to keep customers engaged and purchasing from them again and again. 
A number of health and wellness brands including Pacifica Beauty, Mirenesse and Your Super have expertly shown how this can be done, employing a variety of holistic loyalty and retention strategies.
A few of their key strategies have been:
Subscription services within their loyalty program
Integrated loyalty pages using seamless fonts, colours and imagery that reflect the rest of the website
Communicating key messages via email to build a firmer sense of community
Paid membership tiers with exclusive perks that go above and beyond
Easy one-click referral URLs for friends and family
Access LoyaltyLion's Health and wellness and Beauty and cosmetics ebooks to find out more.
About LoyaltyLion
This post was written by LoyaltyLion. LoyaltyLion is a data-driven loyalty and engagement platform that powers ecommerce growth. A loyalty program is about more than points and rewards. It is about unlocking real insights to increase customer lifetime value. With LoyaltyLion, you can build a better understanding of what drives longer-lasting customer relationships, and use those insights to connect and accelerate your existing marketing efforts. Proven to increase retention and spend, LoyaltyLion is trusted by thousands of fast-growth ecommerce merchants worldwide.